Investor Relations Home
At Orion Group Holdings, Inc., we believe our uniquely positioned construction services portfolio offers a compelling investment opportunity. Every day we are focused on creating shareholder value by making returns-based decisions with strategic emphasis on long-term growth. Our vision is to be the premier specialty construction company, focused on providing solutions for our customers across the infrastructure, industrial, and building sectors, while preserving a solid financial foundation and maximizing stakeholder value.
As a leading specialty construction company, we provide our customers with services both on and off the water in the continental United States, Alaska, Canada and the Caribbean Basin through two principal segments, Heavy Civil Marine Construction (Marine) and Commercial Concrete Construction (Concrete). Headquartered in Houston, Texas, we act as a single-source, turnkey solution for our customers' contracting needs. Our customers are private commercial and industrial enterprises as well as federal, state and municipal governments.
Orion is a market leader, across both business segments.  Orion diligently targets the right projects on which to work in order to take advantage of our competitive strengths. We own substantially all of our high-quality, specialized equipment and we typically self-perform over 85% of the work on our contracts. Our workforce of over 2,300 includes many employees in highly-skilled positions.
Shareholder Contact
If you would like to contact our Board of Directors, including any committee of the Board of Directors, or you have comments and concerns regarding ethical and compliance issues, including accounting, internal accounting controls and auditing issues, please do so via the company's Stockholder Communications Policy by clicking here.
Stock Quote
(Common Stock)

Exchange

NYSE

(US Dollar)

Price

Change

(%)

Volume

Data as of 10/01/23 01:41 am EDT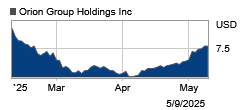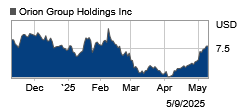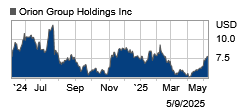 Data Provided by Refinitiv. Minimum 15 minutes delayed.
What's New